How do I use the DeinAdieu.ch testament generator?
In the first part, we explained the key elements and prerequisites for a last will and testament to you. However, creating a last will and testament is easier if you're guided through the process step by step. To do this, you can use the testament generator by DeinAdieu.ch.
The following video will guide you through the testament generator step by step. We'll use a family of four with spouses and two children as an example. And additional beneficiaries will include a friend and a charitable organisation. Creating the last will and testament is also described in words and images.
Step 1: record your heirs
First, you need to create an overview of your family relationships. Think of which relatives, friends and confidants you wish to make beneficiaries and whether you wish to include a charitable organisation.
To calculate the compulsory portions, record all legal heirs using our tool. This will allow you to be certain that your last will and testament meets the content requirements.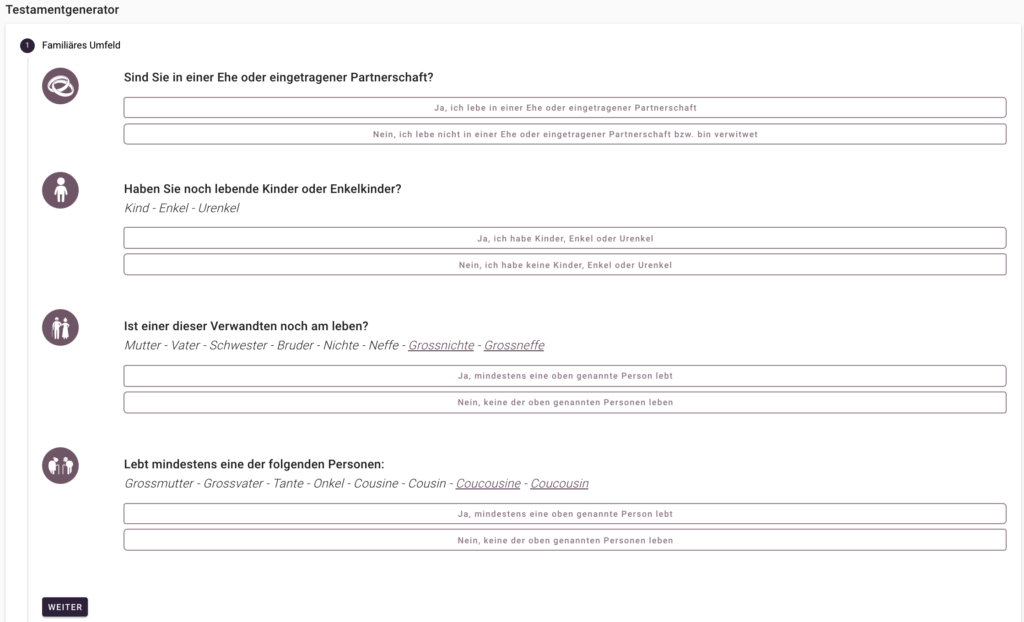 Then you can record additional heirs such as friends, acquaintances and organisations.


Step 2: Establish benefits
In a second step, determine who will get what portion.
In the following illustration, our tool will show you who would receive what portion without a last will and testament according to intestate succession.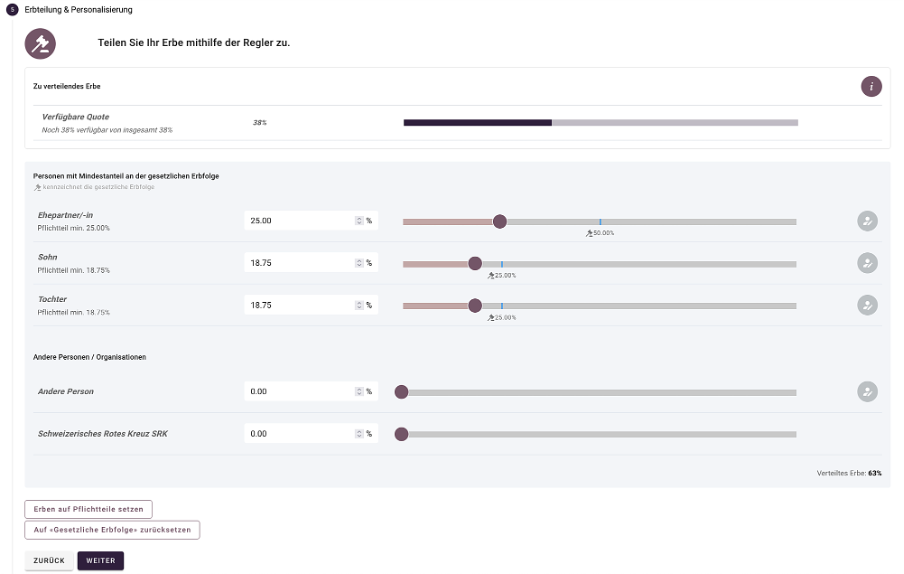 You can now use our simple controller to record your wishes. Our tool will help make sure you don't forget any heirs to a compulsory portion or fall short on that portion. You can dispose of the divisible portion at your discretion – it's the part of the inheritance that isn't protected as a compulsory portion.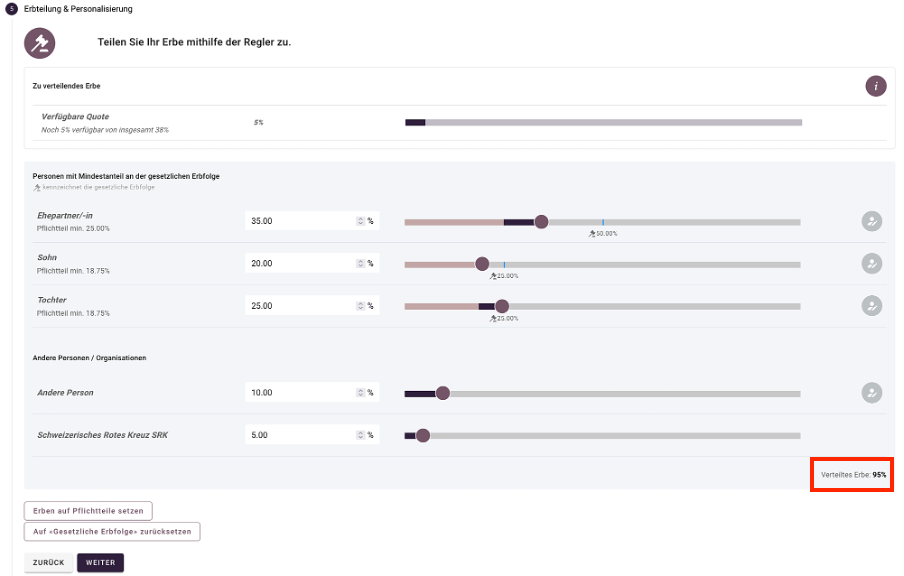 If you wish, you can enter personal information before finalisation. This will be copied over automatically into your last will and testament template. Alternatively, you can also continue without making entries and add them to the duplicate later manually.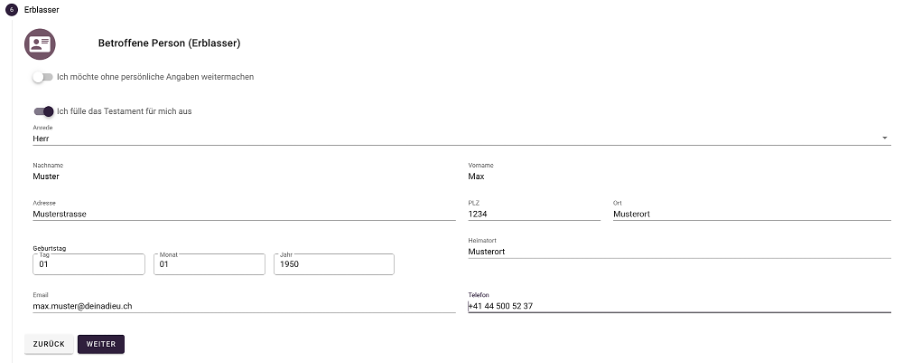 Step 3: copy and save
In the third step, your last will and testament is now created. You can receive your sample last will and testament conveniently by email, download it as a PDF or print it out and study it at your leisure.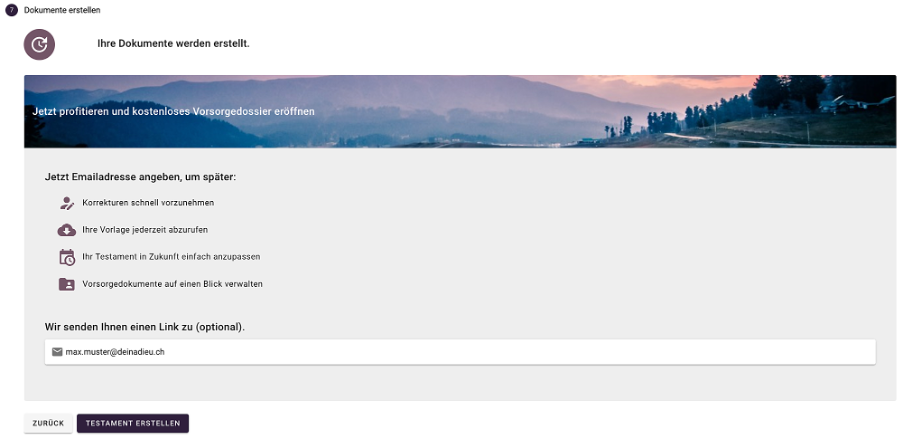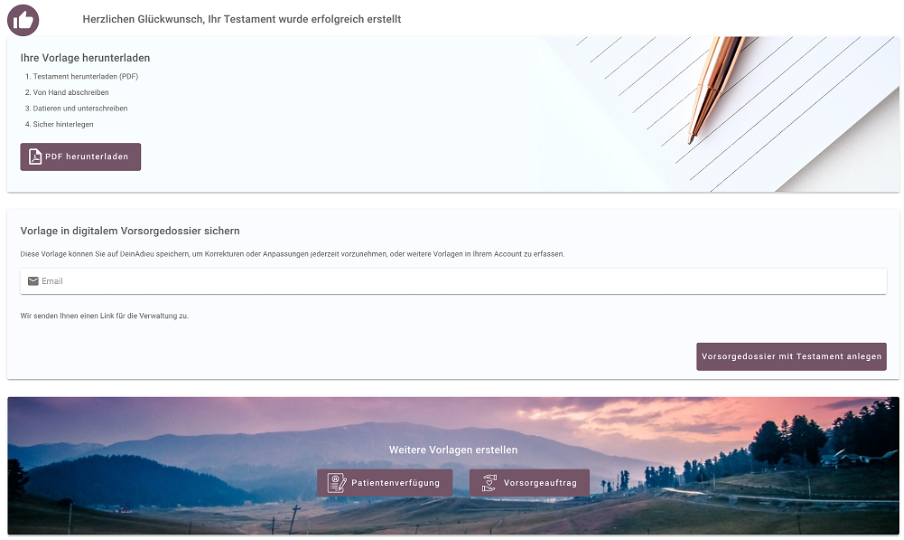 It's important at this point that you copy the downloaded last will and testament by hand. Your last will and testament must be written by hand from beginning to end. Only in this way will it meet the formal requirements (see above).
Save your last will and testament with a trusted person, a lawyer, a notary or with your residential community or an office it designates. However, be sure to also inform a person close to you about where you're keeping it.
Who can advise me about complicated issues?
As helpful as technical support can be when creating a last will and testament, it can't solve every problem. It's no substitute for competent professional advice, especially if there are complex circumstances or special wishes at play. If such circumstances arise, there are a number of specialists who would be glad to help you with your concerns. They understand the leeway that the statutory framework offers you and will help you get the most for you and those closest to you.
Lawyers can advise you on possible solutions, variations and alternatives. Inheritance law specialists in the Swiss Lawyers' Association (SAV) are distinguished by special expertise and can give you recommendations based on their many years of practical experience. You can also commission them to execute your last will and testament so they can carry out your expectations faithfully after it is opened.
Notaries can help you comply with the regulations governing form and content from the beginning, draft an 'airtight' last will and testament and store it securely.
Likewise, various charitable organisations throughout Switzerland offer services dealing with pension schemes and estate planning. The main advantages lie in their cost-effective, low-threshold services and vast experience with inheritance matters.
Consultancy services are often available from the competent authorities at your place of residence. These can be a residential municipality, the inheritance office or the authorised notary, depending on your canton. You can find an overview of the competent authorities here.
Last but not least, at DeinAdieu.ch we are available if you have questions and concerns. We would be glad to advise you personally or refer you to someone else at info@deinadieu.ch or +41 44 500 52 37 (Mon–Thurs, 9 a.m. to noon, 2 p.m. to 5 p.m.).
A brief summary of the most important points
Since a last will and testament is an important document, it is invalid unless certain legal requirements are met in terms of people, form and content. If they are not complied with, the last will and testament may be contested.
In some cases, or to give you an initial overview, you can take advantage of automated resources such as the DeinAdieu.ch testament generator.
If you have more in-depth questions or your case involves complex circumstances, we recommend that you seek advice from an expert. (Specialist) lawyers, notaries, NGOs and the authorities can support you with their expertise. At DeinAdieu.ch, we would be glad to help you further as well.
This might also interest you