How do I use the DeinAdieu.ch will generator?
In part 1 we explained the key elements of a will. But it's easier to draw up a will when you are walked through the process step by step. That's what the will generator on DeinAdieu.ch is for.
In this video, we'll take you through the will generator step by step. Our example is a family of four with two parents who are married and two children. In addition, a friend and charitable organisation are also to receive legacies. Creating the last will and testament is also described in words and images.
Step 1: List your heirs
First look at your overall family situation. Consider which relatives, friends and other people close to you to whom you would like to make a bequest and whether there may be a charitable organisation you trust.
To figure the statutory entitlements, enter all legally entitled heirs in our tool. This helps you ensure that your will meets the content requirements.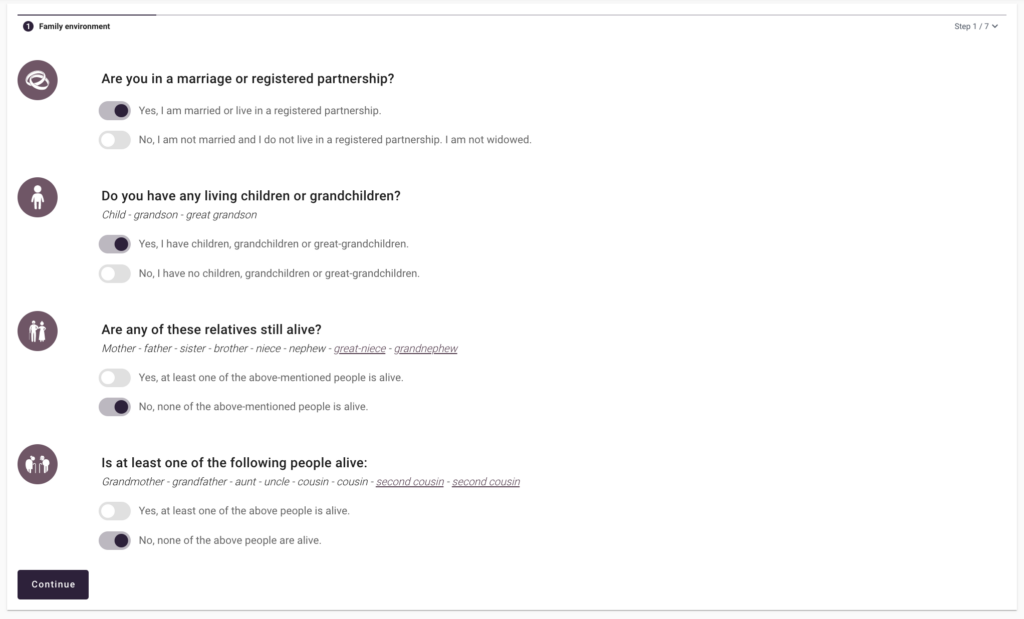 Then you can enter additional legatees such as friends, acquaintances or organisations.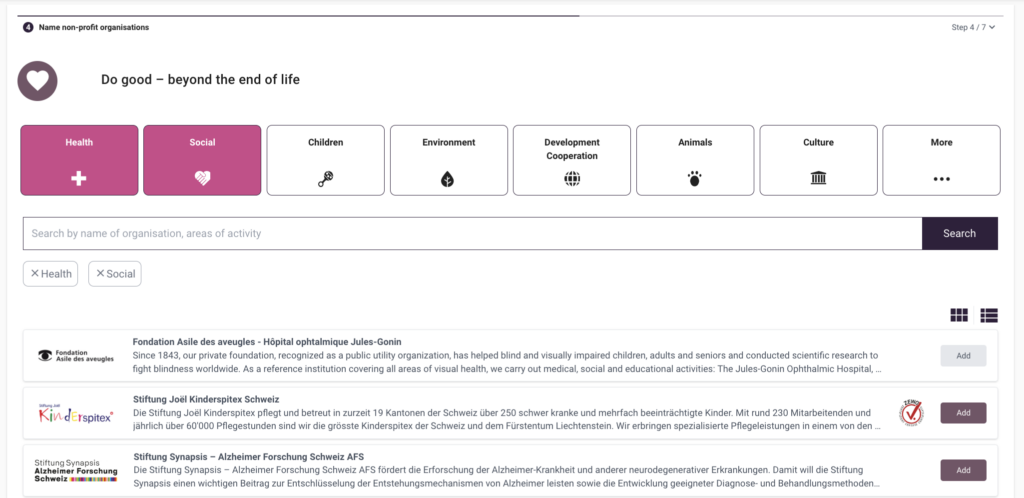 Step 2: Enter bequests
In step 2, you determine who inherits what share.
In the following diagram, our tool shows you who would receive how much according to the law if there is no will.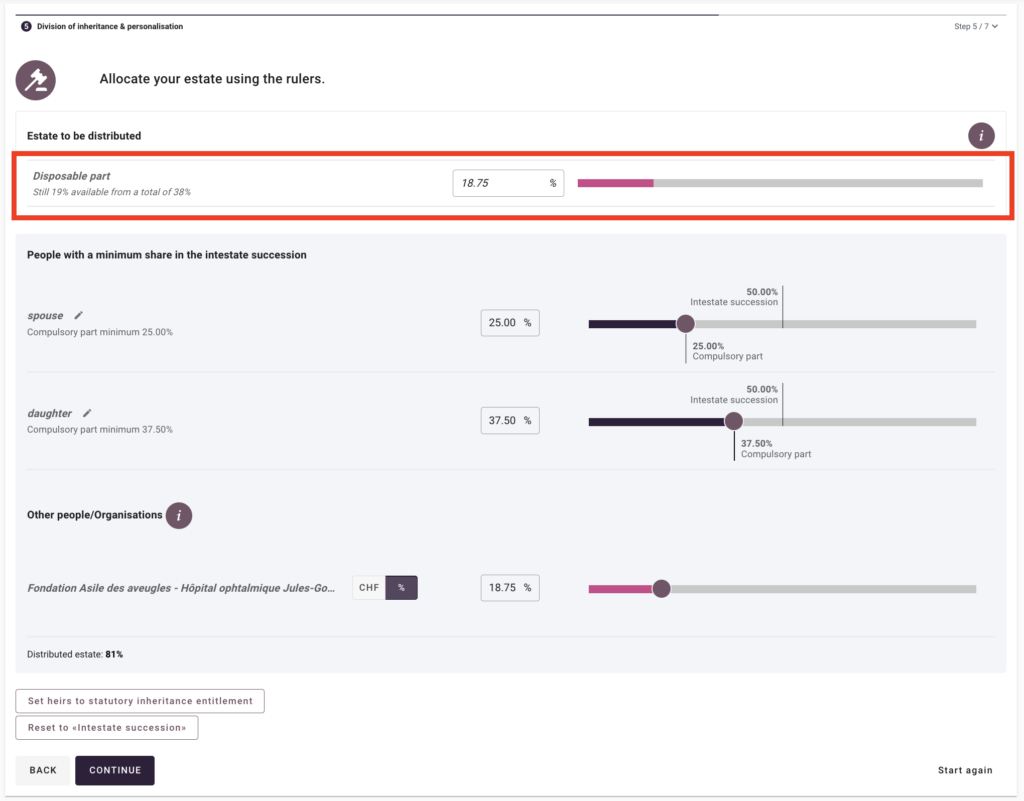 You can use the slide to determine your wishes. Our tool helps you avoid forgetting any of your heirs who have statutory entitlements or giving them less than they are entitled to. You can bequeath the free quotahowever you wish – this is the proportion of your estate that does not fall under statutory entitlement laws.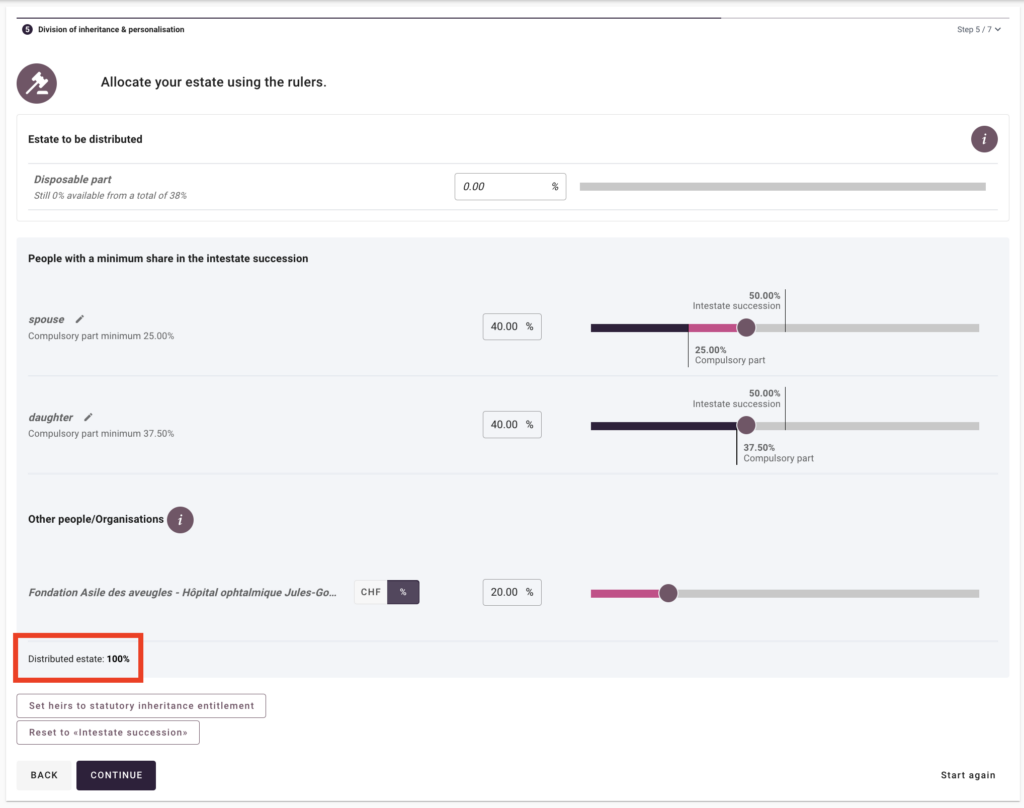 If you wish, you can enter personal information before finalising the document. This data will automatically be transferred to your will template. Or you can continue without entering your data and then add them by hand later.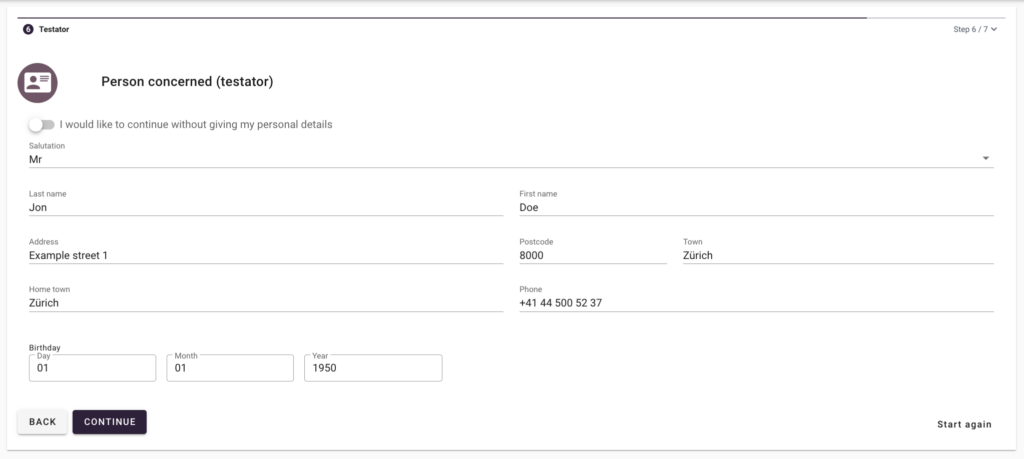 Step 3: Copy by hand and file
In step 3, you create your will template. You can receive your sample will conveniently by email, download it as a PDF or print it out and study it at your leisure.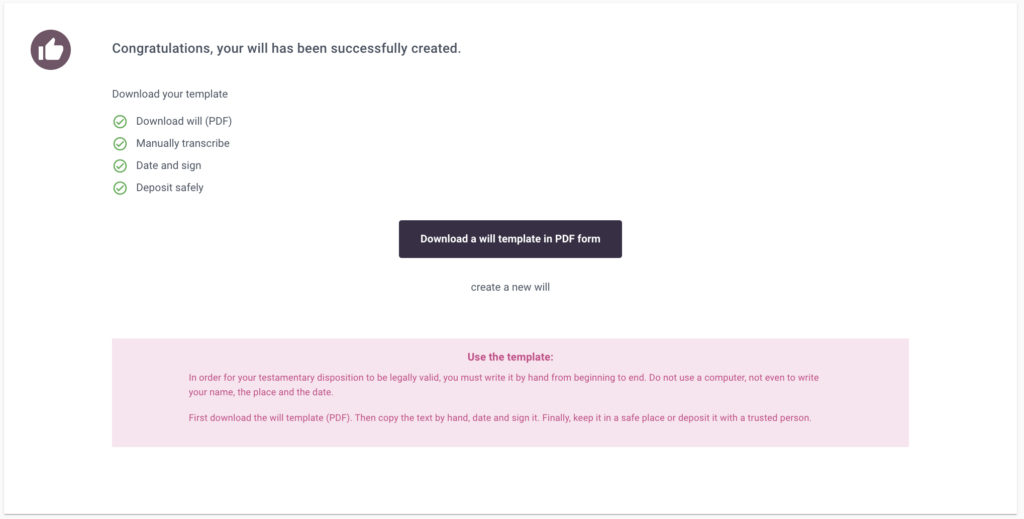 It's important to now transcribe the will you downloaded by hand. Your will must be fully available, written by hand to be valid (see above).
Deposit your will with a person you trust, a lawyer, a notary or the local authority in your place of residence or a place that authority names. Ideally, you should also tell someone close to you where your will is filed.
Who can help me get answers to complex questions?
As helpful as technical support in drawing up your will may be, it can't provide all the answers. Particularly if your circumstances are complex or you have special wishes, it is no substitute for the advice of a skilled professional. There are many experts who will be happy to advise you. They know how much freedom the legal framework gives you and will help you to get the most out of your assets for you and your loved ones.
Lawyers will show you possible solutions, variations and alternatives. Fachanwältinnen und Fachanwälte SAV, bar-certified specialist lawyers in inheritance law, are known for their expertise and can offer suggestions based on their years of experience. You can also appoint them as executors of your will so that they take care of implementing your wishes just as you expressed them once the will is opened.
Notaries can help you fulfil the form and content requirements from the start, draw up a "watertight" will and store it securely.
There are also a number of charities throughout Switzerland that offer services covering all aspects of elder care and estate planning. The main benefits of these organisations are the low cost and easy access of their offerings along with their vast experience in inheritance matters.
Your local government office may be able to show you some options. Depending on your canton, the local office to contact may be the municipality, the estate office or the public notary. You can find a list of the offices responsible here.
Finally, we at DeinAdieu.ch are also available to help you with questions and concerns. We would be delighted to advise you personally at info@deinadieu.ch or +41 44 500 52 37 (Mon-Thu, 9–12am, 2–5pm) or give you a referral.
Summary of the most important points
Because a will is an important official document, the law sets forth certain requirements in terms of person, form and content for it to be considered valid. If these are not fulfilled, the will may be subject to challenge.
If your case is straightforward or you want to get a basic idea of what's involved, you can use automated tools such as the DeinAdieu.ch will generator.
If you have more in-depth questions or complex circumstances, you are well advised to consult with an expert. Specialised lawyers, notaries, NGOs and government offices can support you with their expertise. We at DeinAdieu.ch will also be delighted to help you.
You might also be interested in