This interview at the Mathilde Escher Foundation occupied my mind for days before the appointment. I know, I'm meeting 48-year-old Marc. He has been living at the Mathilde Escher Foundation for years. How is he doing, I ask myself. How is he doing? Is he sad, even disappointed in life? I was unsure, but was immediately proved wrong.
With a powerful ride, Marc rolls into the office of Lukas Fischer, the head of communications and the graphics workshop at the foundation. Marc turns his electric wheelchair practically on the spot, parks next to the African hemp and smiles at us. I smile back – behind my mask.
Marc is wearing washed-out jeans and a blue jumper. An inconspicuous earring shines on his left ear, his hair is silvery-grey, as is his thin beard. He answers my questions quietly, makes pauses. I try to speak clearly despite the mask.
He was six years old, he says, when his parents took him to the Cantonal Hospital Aarau, where he had to undergo a muscle biopsy. Afterwards, it was clear that the child suffers from muscular dystrophy. «This often leads to physical limitations and shortened life expectancy.»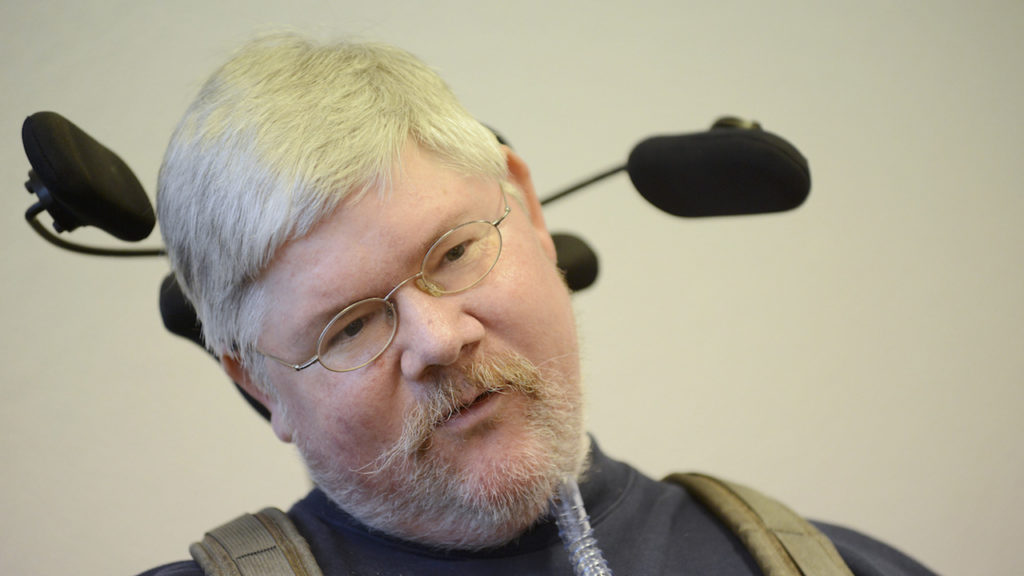 «I used to attend almost every ZSC home game.»
The most common neuromuscular disease in children is Duchenne muscular dystrophy. One in 3'500 boys is affected by this disease. The Mathilde Escher Foundation has specialised in the care of people with Duchenne muscular dystrophy Duchenne for many years.
Marc is one of the oldest people in the world with this terminal disease. He has been living at the Mathilde Escher Foundation for 30 years and has had to say goodbye to dear friends a number of times.
How did that affect you? «If it was a good friend," says Marc, "I grieved. And then it's over. It's not good to push the pain to the side. So I'm sad for a while, then life goes on. Always.»
He says this quietly and thoughtfully. A slight smiles forms. I would like to know how and where he gets his zest for life and optimism from. And Marc's answer does not amaze me. «The Mathilde Escher Foundation gives me strength in life. It gives me assurance.». He pauses. He says: «I don't do as much as I used to, I stopped working in 2003. My cousin and I did the bookkeeping for friends who had opened a shop. A 'Lade zum Läbe'. They sold organic products and shishas. Before that I worked in the office centre of the Mathilde Escher Foundation, doing graphic works.»
Marc is a big hockey fan. «There were times when I attended practically every ZSC home game. I also went to away games.», he's beaming. He enthusiastically tells how the Zett was 4-0 behind against Zug and finally won 6-4. «Or last year, I saw the first game between ZSC and Davos. We won 6:2, which was massive. The whole villa came to the match. It was a lot of fun.»
Marc played in Australia at the Powerchair Hockey World Cup
The 48-year-old is not only passionate about hockey. No, he played the fast game for years with his electric wheelchair. «I became fascinated by this sport in 1988 when I tried it out at the Kaserne Zurich, where the Mathilde Escher Foundation was temporarily based during a renovation.» Initially, they played with normal wheelchairs. Sports wheelchairs were not even available abroad. «I saw the first one in Germany. A woman was sitting in it. And so we started to tinker. The caretaker made us special metal shovels. Now and then he had to mend our wheelchairs because the footboards would splinter or the hinges would break in hard fights.»
Marc's passion for hockey took him all the way to Australia in 1991, where he took part in the Electric Wheelchair Hockey World Cup in Brisbane with the Swiss national team. «We were seven players and the same number of caregivers. It was a great experience, those two weeks down under.» Marc beams. After returning, he says, he laid happily in his bed and reflected on the days. «I travelled from Gold Coast to Gold Coast, saw snakes, koalas and kangaroos, and met cool people. From a sports point of view, it was also a success. The Swiss placed fourth at this Powerchair Hockey World Cup. Marc says he was a feared striker during his active time.» He laughs and says that falls were also part of the deal.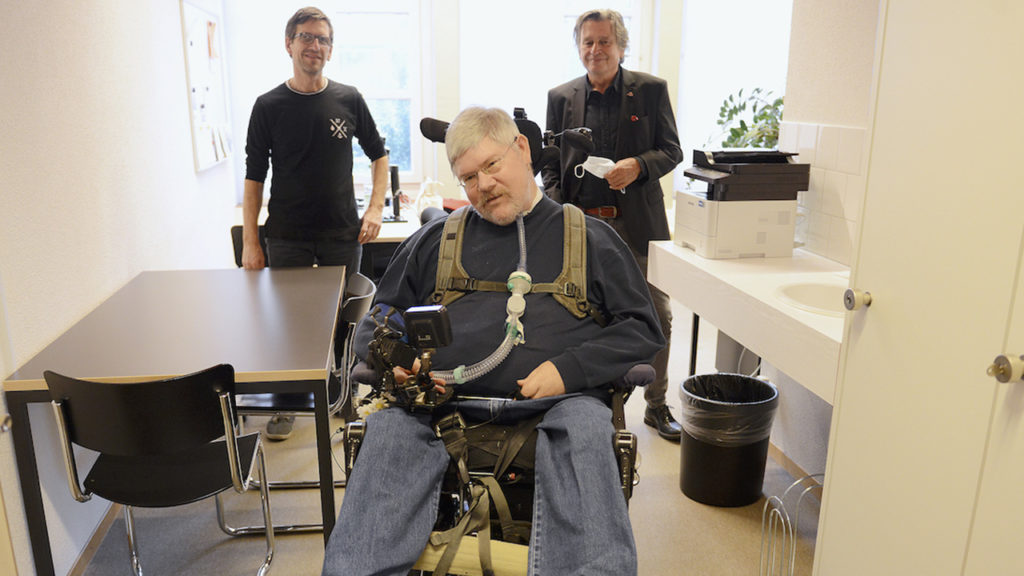 «I would absolutely like to go to the Üetliberg one day.»
Our conversation is coming to an end. I ask Marc about his wishes, plans and any projects he has. The room is silent. He thinks for a long time. «I want to stay healthy and go to the Üetliberg once. I've never been there." He laughs and says he would like a vaccination against the Covid-19 virus as soon as possible. Then he would have a Cüpli or a glass of wine. Fortunately, he could already drink to Joe Biden's victory.
Last question. «Marc, you are the oldest one here in the foundation, are you afraid of death?» He says: «Sometimes I think about it. I think it could be over anytime.» He goes silent, nods at us.
We say goodbye. I put my hands together in front of my chest and bow slightly. I say thank you. Marc starts his vehicle, turns around the photographer, drives past the indoor African hemp and leaves. A cheerful mood prevails. Optimism and serenity.
Lukas Fischer has been working at the Mathilde Escher Foundation for 17 years: «It is still fascinating to me when I see how the people here love life. How cheerful they are.» (Photo: Paolo Foschini)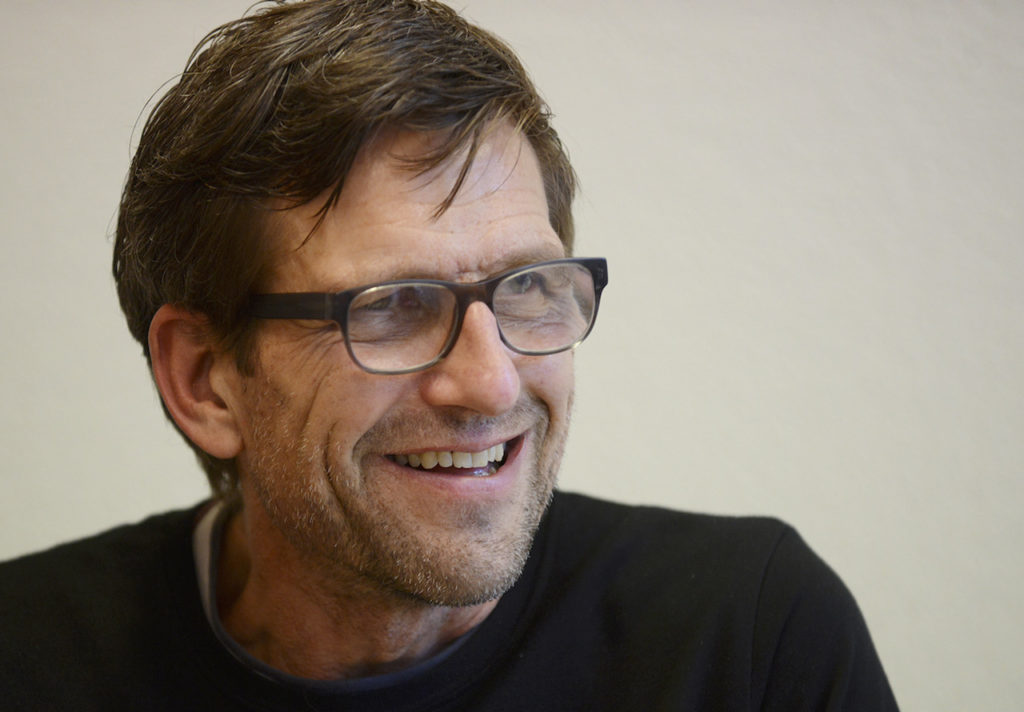 «People here really love life, it fascinates me.»
I talk to Lukas Fischer about the happy atmosphere. I expected to find sorrow and sadness. The opposite was the case. Optimism and zest for life prevail. The head of communications at the Mathilde Escher Foundation smiles at me: «17 years ago, I, a lateral entrant in the social sector, came to know the Foundation. Everything was new to me. Dealing with people who were being ventilated through a mask. I felt that tubes and machines don't matter if I want to meet a person empathetically. It is still fascinating for me every day when I see how much the people here love life. How happy they are. That captivated me and I'm proud to be part of it.»
Lukas Fischer is 55 years old and has two children with his partner. «I got to know all kinds of different professions and didn't know what to do for a long time. I worked as an alpine herderman for two summers in the Krauchtal valley in Glarus. I looked after 150 cows and produced Ziger. I studied economics, worked as a PR editor for Konrad Toenz and transported disabled people. In the process, I got to know Marc's cousin, whom I often drove back to the Mathilde Escher Foundation. So it was natural for me to apply for a training place at the foundation for my social work studies.»
Around 70 people with severe physical disabilities currently live, study and work at the Mathilde Escher Foundation. Two thirds of them are men who suffer from Duchenne. Their illness is terminal. How does Lukas Fischer deal with it when people die who have been cared for by him, by the team?
He looks at me and says: «It doesn't get easier. Meanwhile, people are dying whom I have known for 17 years. That moves me, I've also had to cry, I have to tell people at home. I then experience a mourning process, sometimes more intense, sometimes less intense.»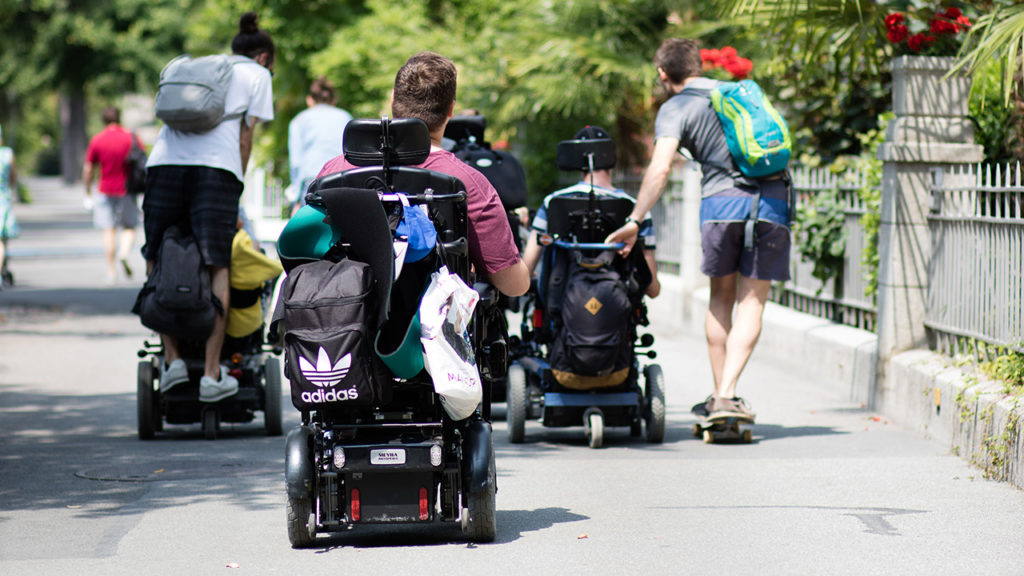 "We use donations to finance leisure activities."
The finite nature of their lives is not a constant topic for the residents of the Mathilde Escher Foundation. Lukas Fischer: «They are optimistic. We support them in their projects, go on cool trips with them, to which they contribute with ideas. They don't need an entertainment programme, there are few organised leisure activities.» But these are costly. Often one-to-one assitance is required. Tickets, accommodation, meals: everything costs twice as much.
Six to twelve residents form a group. On average, one caregiver is needed for three people, and this around the clock. Often two caregivers are needed for one person, for example when he/she has to get up or go to bed. A big effort. How does the Mathilde Escher Foundation raise the necessary funds, I would like to know from Lukas Fischer.
Basically, the public sector, the cantons, the school communities, the Invalidity pension fund pay for it. Donations are indispensable for trips, leisure activities, etc.
When it comes to interacting with people with muscular dystrophy, he would like us, society, to make the world as barrier-free as possible. A world of work without barriers. «It is not enough to say that our jobs are also open to people with disabilities.» The committed social education worker underlines his words with clear gestures. «It has to be the other way round», he says. «e have people and create jobs for them. That's how it works in sheltered workshops, and that's how it should be made possible in the free labour market. After all, everyone wants to go to work. They want to use their skills, I see that. They can all work productively.» Lukas Fischer reminds us of the previous conversation with Marc. «He was lucky that his friends at the 'Lade zum Läbe' tailored a job to him. So he was able to work in the regular labour market for three years.»
At the end of the meeting we have coffee in the common room. We hear cheerful voices in the corridor. Electric wheelchairs flash by. Young people play, chat, listen to music. A world where everything is in order. Cheerful and positive. Asked about this, Lukas Fischer says. «Barriers can be lifted from both sides. We should approach each other curiously, take a step towards each other.»
We laugh under our masks, say goodbye with an elbow nudge. Heartily. I am deeply impressed.
Text: Martin Schuppli, Photos: Paolo Foschini
The Mathilde Escher Foundation is a partner of DeinAdieu. Tothe profile