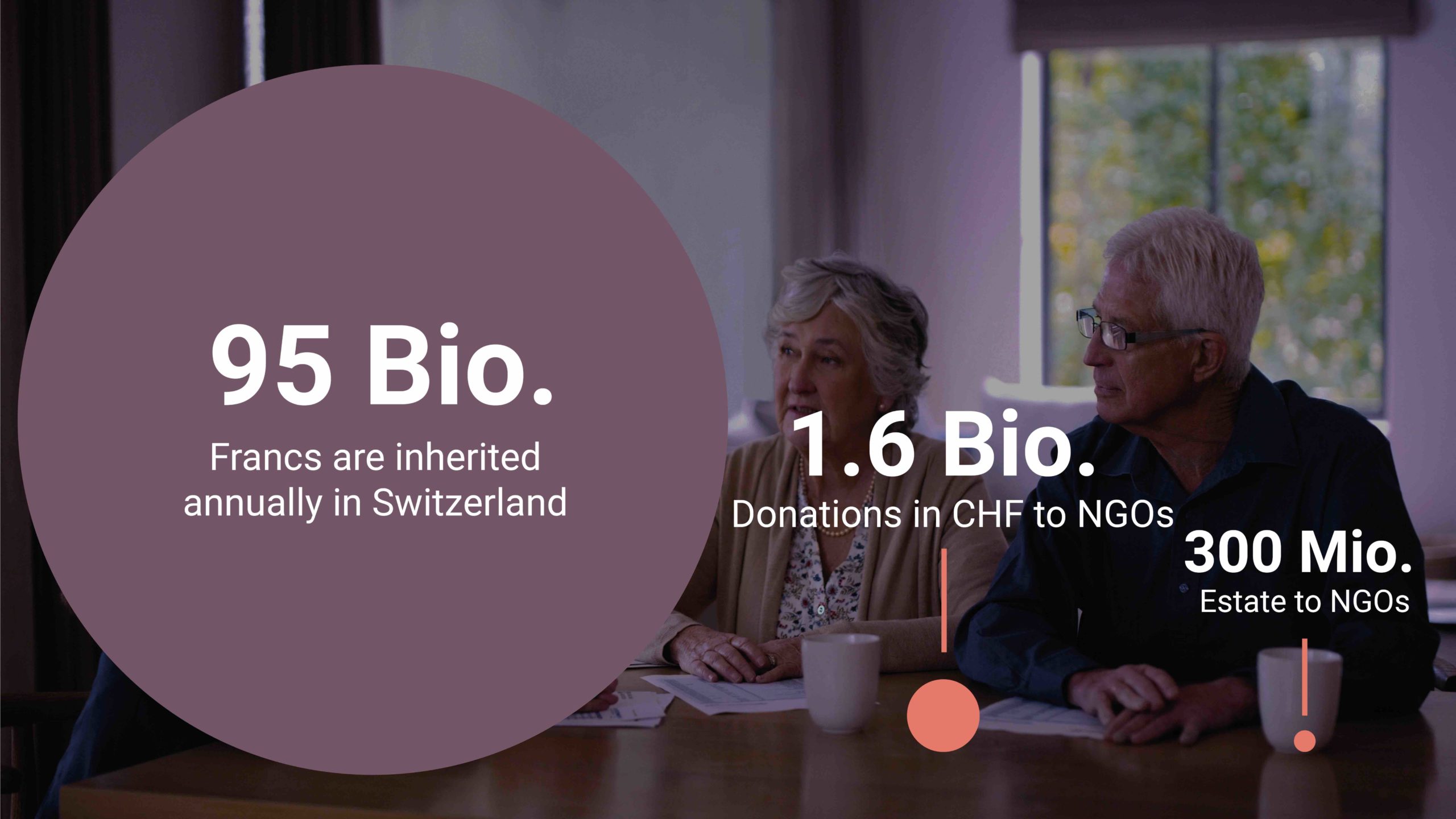 Why inheritance and legacy fundraising?
Across Switzerland, more than 500 NGOs are fighting for a donation size of 1.6 billion Swiss francs. In the increasingly fierce competition for donations and with ever-decreasing government subsidies, tmany NGOs are under great pressure when it comes to raising funds.
At the same time, more than 95 billion Swiss francs are inherited annually. In no other country in Europe is so much money per capita inherited – If an NGO is considered in a will, this happens with amounts between 50'000 to 80'000 Swiss francs.
Inheritance and legacy fundraising is, therefore, the most attractive source of funding for aid organisations, non-profit cultural institutions and all operational NGOs with a donor/member or patron base. It is now time to enter this growing market.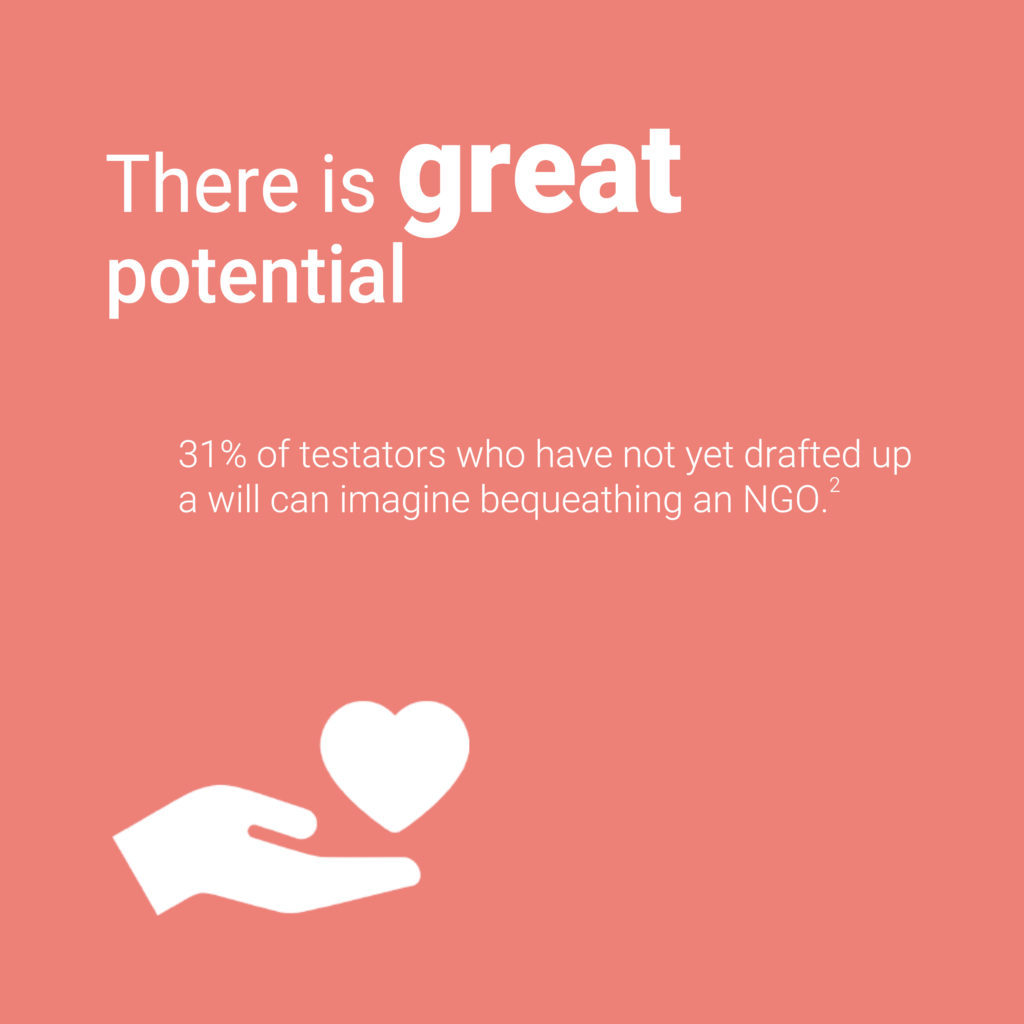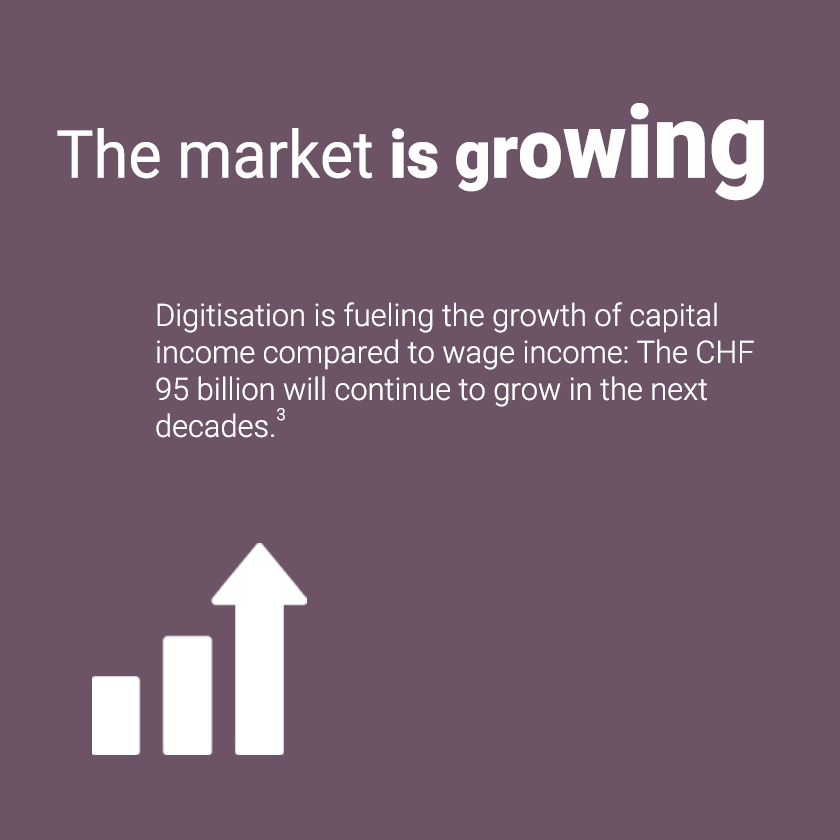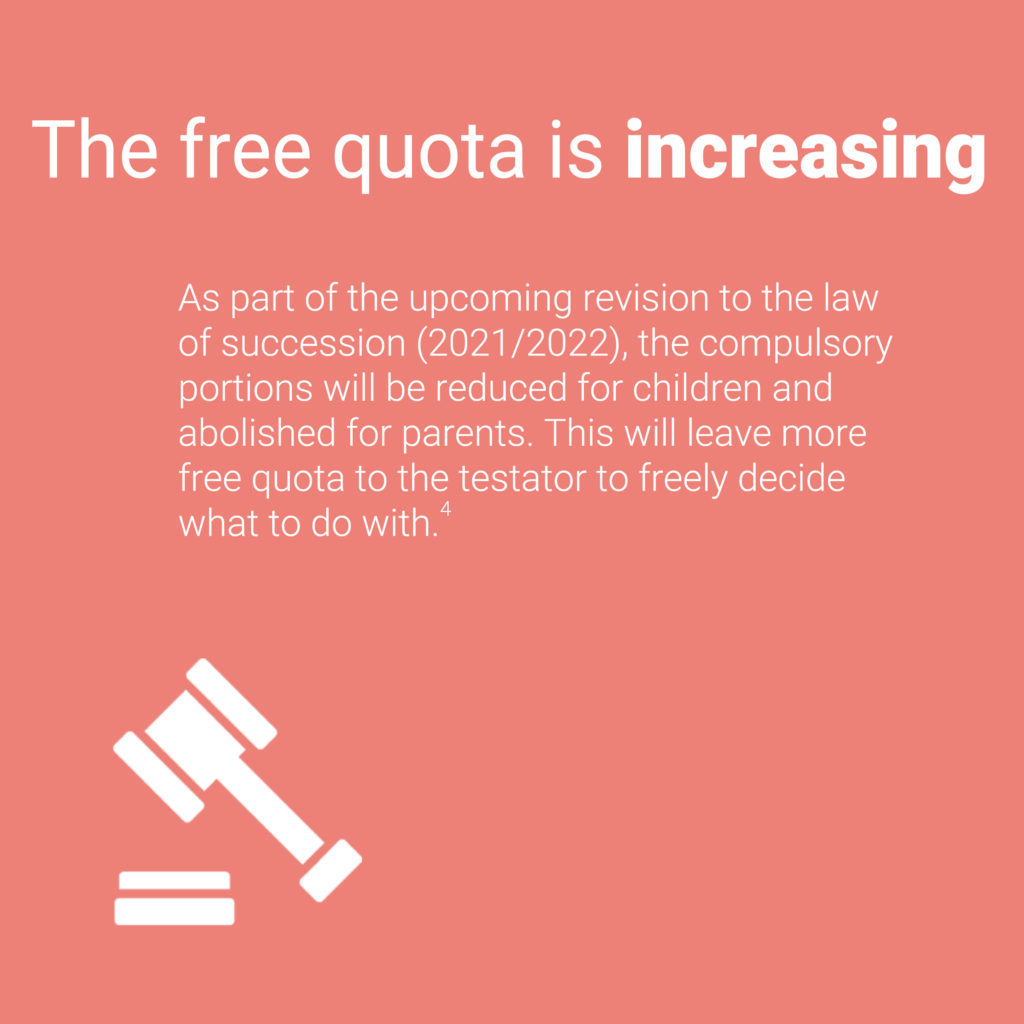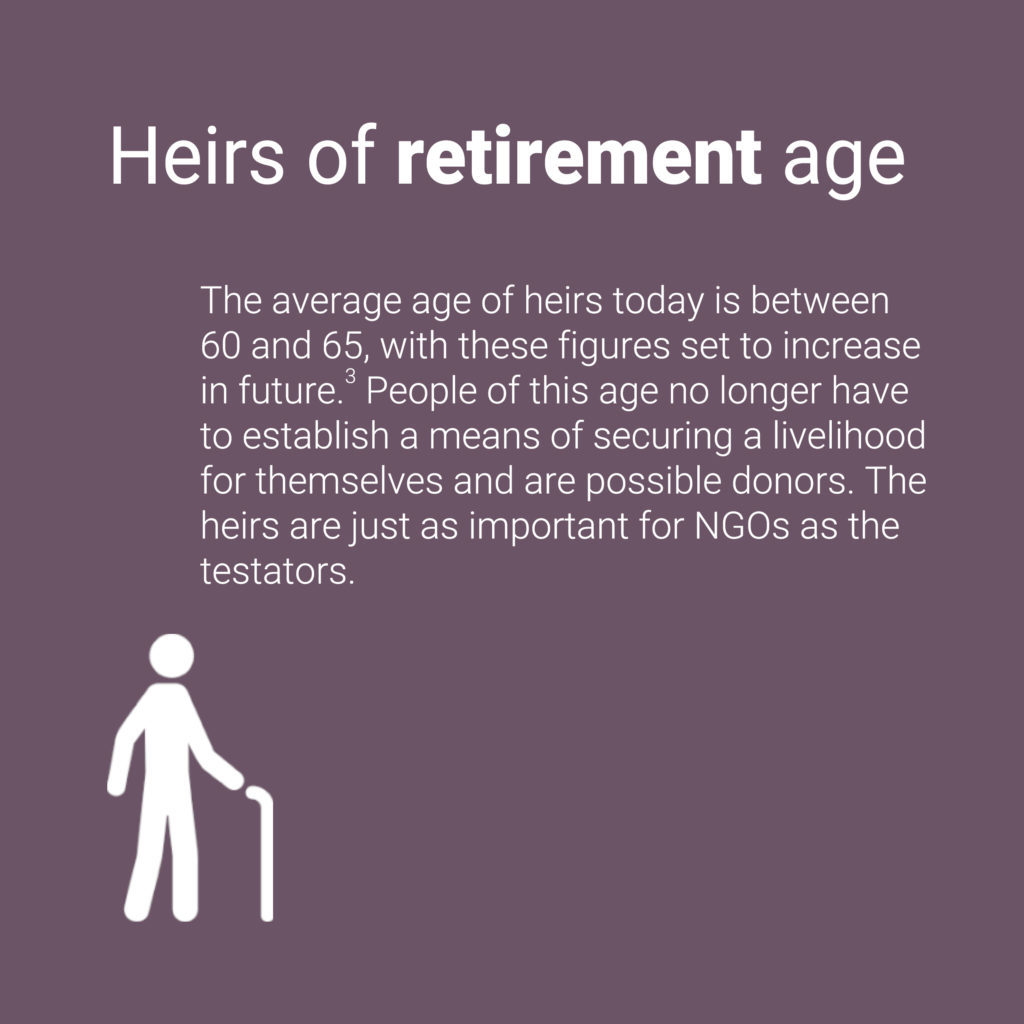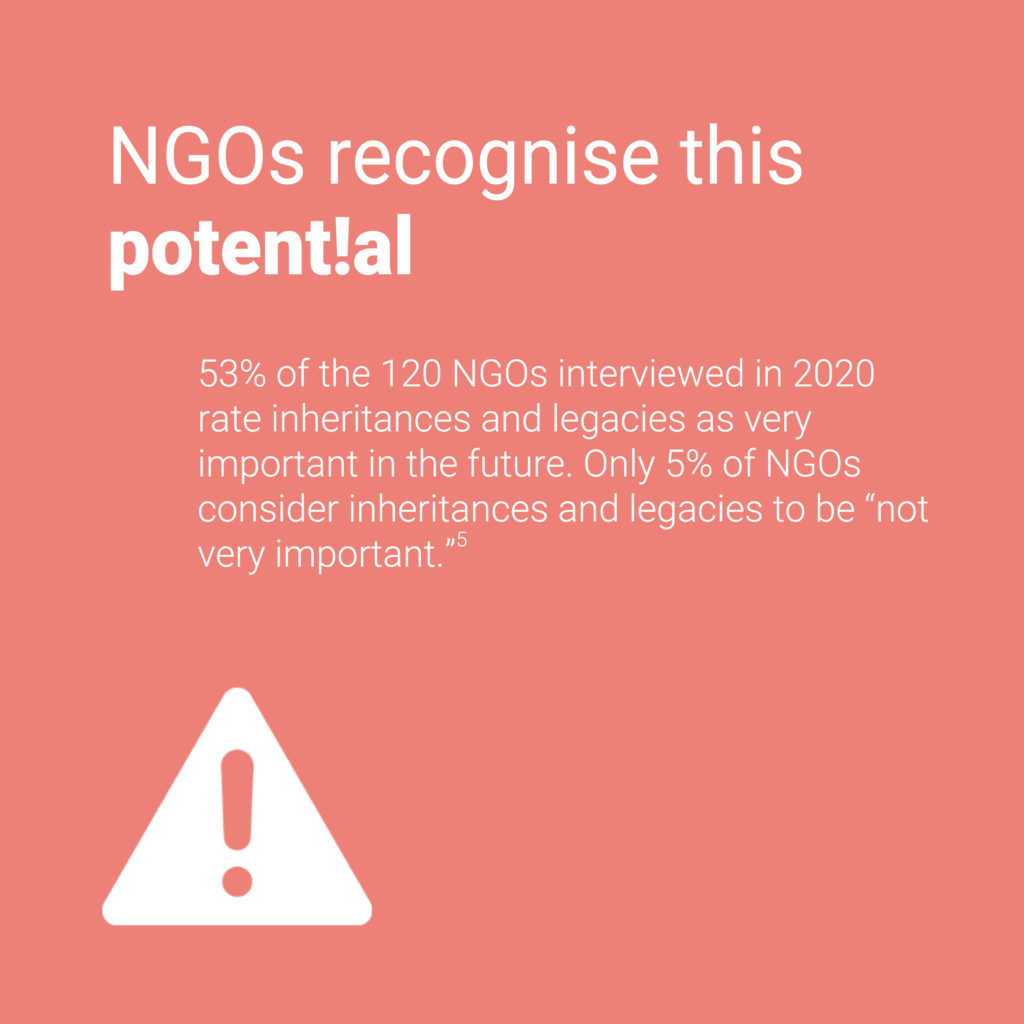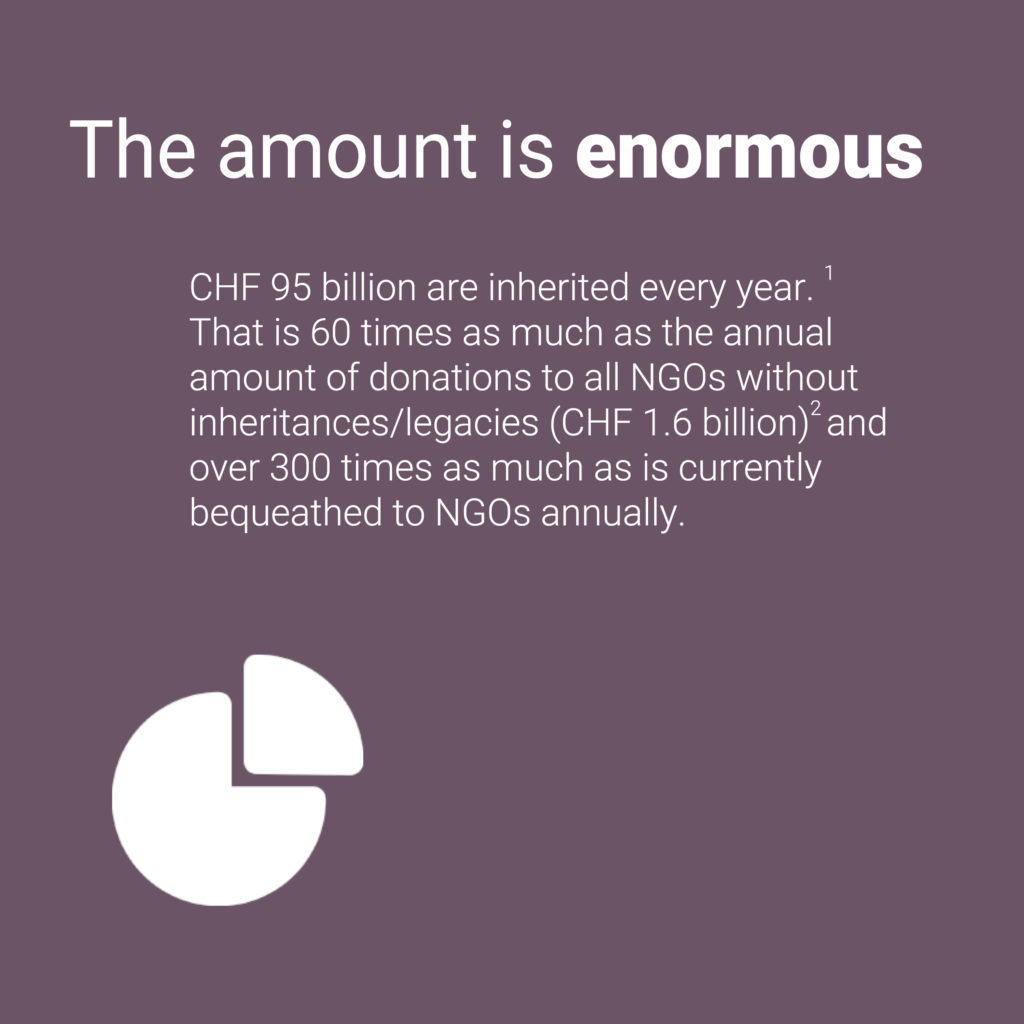 The Children's Hospital Zurich receives several dozen potential legacies annually via DeinAdieu's service regarding wills – without any personal involvement on our part.
Wanda Arnet, Inheritance, Legacies and Philanthropy Manager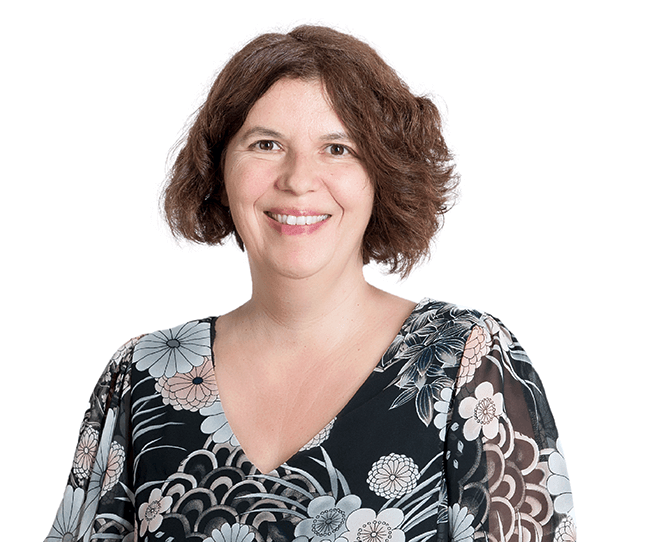 How to bequeath a legacy & how to inherit?
Inheritances and legacies don't just come along – usually, there is an emotional relationship between the testator and the beneficiary organisation. Using suitable instruments, such valuable people can be identified and possible support can be sought.
Whereas in the past we used to mailinheritance brochureswhich was very time-consuming and the usage of which was very uncertain, or used to conduct very resource-intensive personal discussions, today the NGO's online presence and online fundraising portals such as DeinAdieu are considered by NGOs to be the most relevant instruments.6
Priority 1 :
Use the inheritance page of your organisation with the tools provided by DeinAdieu.ch
Reach hundreds of thousands of people every year who settle their advance care via DeinAdieu.ch's platform
Use your existing communication channels to direct target groups to your inheritance page.
Priority 2 :
Carry out specific inheritance events with your donors and ask about the possibility of support
Maintain the relationship with specifically selected donors and patrons and ask explicitly in consultations whether support through an inheritance is possible.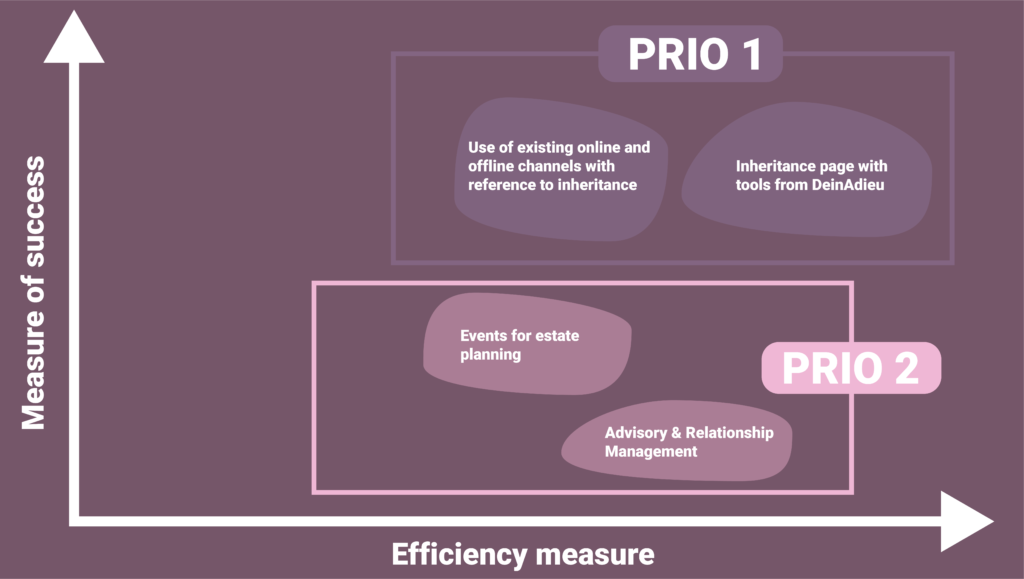 ---
What services does DeinAdieu offer?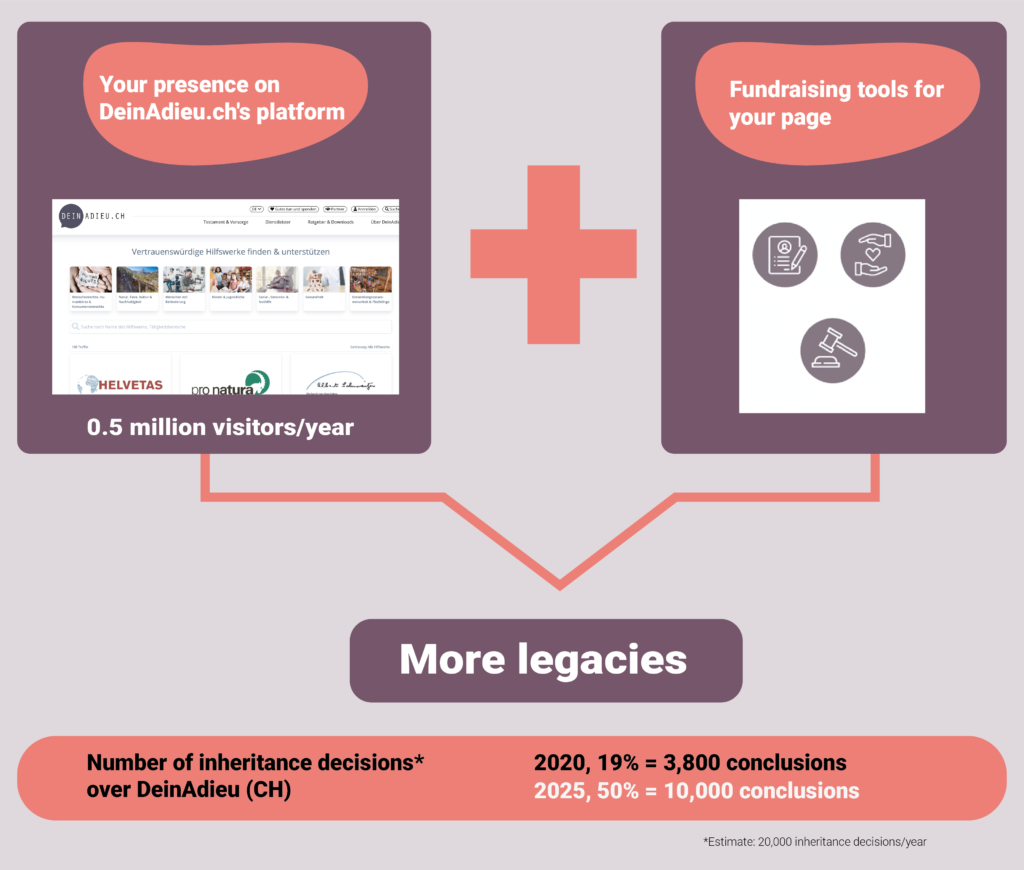 DeinAdieu.ch offers special fundraising tools for the inheritance page of your organisation. This is always associated with your organisation's presense on DeinAdieu.ch's platform. Why is DeinAdieu's online inheritance fundraising special: the automatic success monitoring. Read more about this below.
DeinAdieu.ch is the largest «place» where inheritance decisionsare taken in Switzerland. We work every day to make this place even more attractive for senior citizens and their families on the subject of self-determination.8
Your presence on DeinAdieu.ch
Fundraising tools for your legacy webpage

With DeinAdieu.ch you offer visitors to your website tailor-made, free advance care tools. Your donors, patrons and members can create a patient decree,a will, an advance care directive and an online obituary free of charge.

All document templates can be filed by the users in the advance care dossier. The advance care dossier is made possible by your organisation (co-branding). In all generated will templates, your organisation will be exclusively suggested to be considered.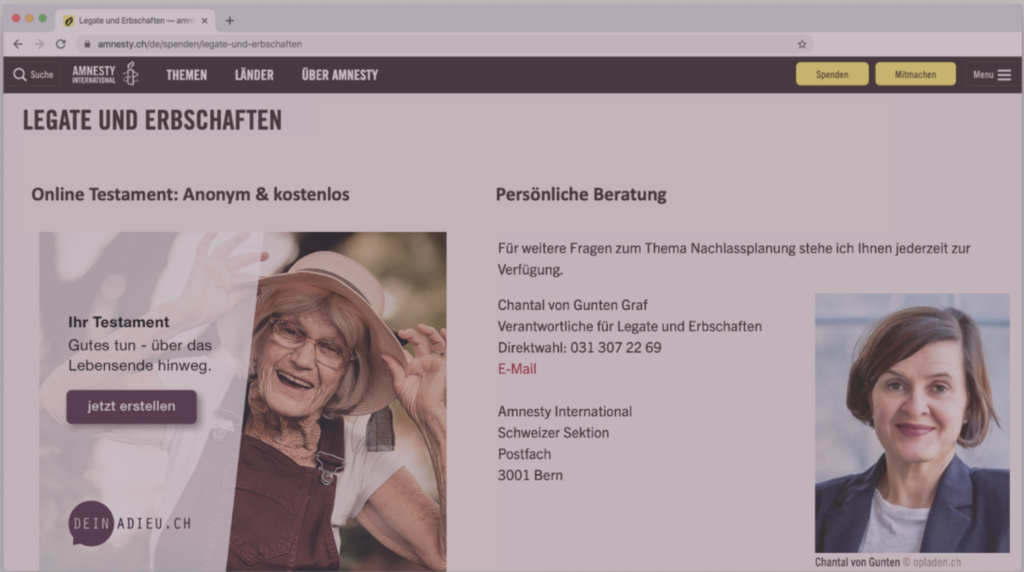 The above mentioned advance care instruments can be integrated on your webpage by your online marketing team within a few minutes via special links.
We recommend that you design your webpage without further information or downloads to avoid jumps.
Measurable fundraising success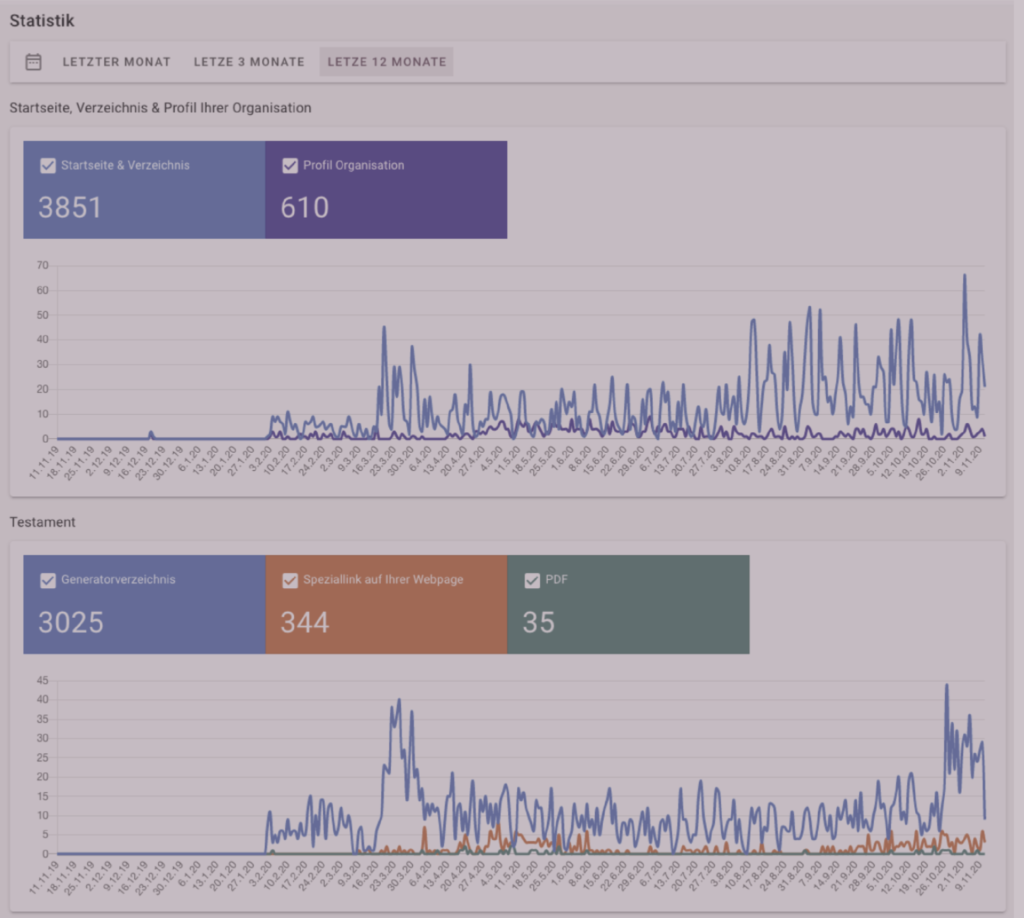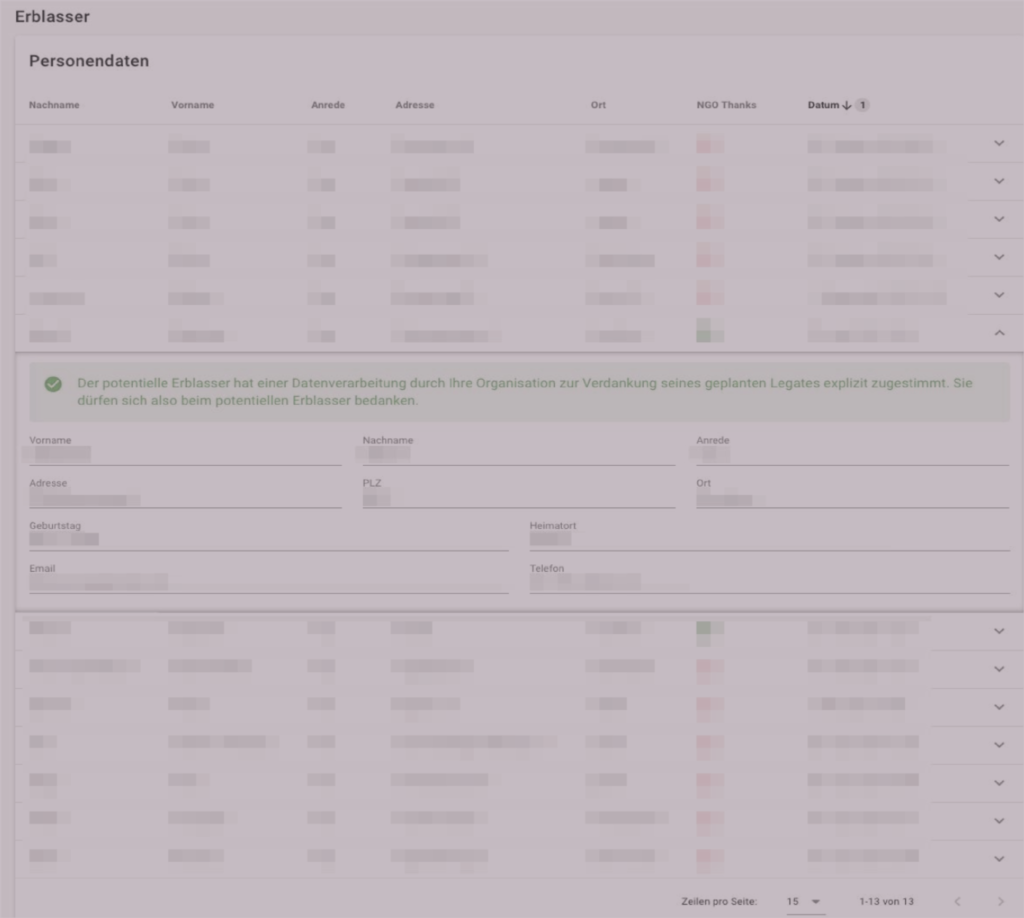 As a fundraiser, you will receive direct access to the real-time results for your organisation via the partner login.
We measure the reach of your organisation on DeinAdieu.ch's platform on a daily basis, the number of times your organisation's profile is called up on DienAdieu.ch, the usage figures of the advance care instruments on your webpage (special link on your webpage) and the number of times your organisation is mentioned in a will template.
We will also inform you of the testators who have bequeathed your organisation and thereby used the will service in a personalised manner.
Our prices
The subscription includes:
The full presence on DeinAdieu's portal described above.
Also included in the subscription are all the fundraising tools described above for your website
All functions of the partner login and the option to measure fundrasing success
The annual investment costs for the subscription are calculated according to the total revenue of your organisation (see table below).
The Toplistings include:
Toplistings give your organisation more visibility on DeinAdieu.ch's portal for visitors who visit our portal directly: Your organisation will be listed at the top of the relevant advance care tools. Important: This does not apply to the fundraising tools on your webpage (only your organisation will always be exclusively suggested there).
The annual investment costs for the Toplistings are also calculated depending on the total revenue of your organisation (see table below).

---
Sources:
1: «Switzerland is inheriting more than ever before: 95 billion almost tax-free francs», NZZ/Marius Brülhart, 10.12.2019
2: Donor Report Switzerland, Swissfundraising and Stiftung Zewo, Edition 1, Dec. 2019. 2019.
3: Additional billions expected for Swiss NGOs – Interview with Dr. Brülhart (HEC Lausanne), DeinAdieu, 7.10.2020, https://www.deinadieu.ch/zusaetzliche-milliarden-fuer-schweizer-ngos/
4: Message of the Federal Council from 29. August 2018 concerning the modification of Swiss Civil Code (law of succession), https://www.admin.ch/opc/de/federal-gazette/2018/5813.pdf
5: Report on the survey «Instruments of inheritance and legacy marketing» from DeinAdieu.ch, Zurich, September 2020, read more here
6: «Instruments of inheritance and legacy marketing – Report on the survey from DeinAdieu», DeinAdieu.ch, 2020, https://survey.deinadieu.ch/zs/36B8GY
7: «Internet usage in households in 2019», Federal Statistical Office (FSO), 2019, https://www.bfs.admin.ch/bfs/de/home/aktuell/medienmitteilungen.assetdetail.11127962.html
8: Figures 2019, DeinAdieu.ch
What other fundraisers say about us: